San Diego, CA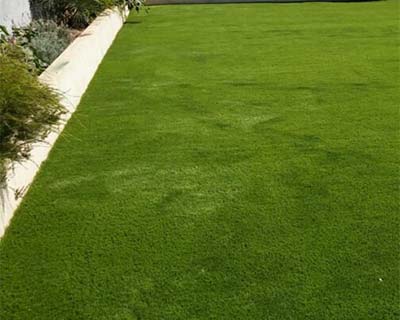 When you want a cohesive landscape, you need to install various features and elements in a balanced way. It is why landscape designers make sure that the right types of hardscaping and softscaping features are used.
Masonry elements help to improve the integrity and stability of the landscape, while plantings and grass uplift the look of the place with greenery and freshness. Lawns look amazing in outdoor areas, but it can be very difficult to maintain them in perfect condition at all times. Lawn maintenance can be a very time-consuming and complex task.
While it is possible to hire the services of a lawn maintenance contractor for all of these regular jobs, it can be even more advantageous to get artificial grass installed on your property. We at San Diego Landscape Solutions Inc. are a leading company in this industry and provide outstanding artificial turf solutions to clients across the region. Take a look at these services:
Artificial Grass
It's a fact that many people like the appeal that natural grass lends to outdoor spaces. However, as mentioned earlier, taking care of the grass can be quite a hassle. This is why we recommend the use of artificial grass in San Diego, CA, and it offers several advantages over natural grass.
It is easy to install, and you can start using the outdoor spaces as soon as the grass in place. The feature is low maintenance, will not fade and will last for several years without any mowing, aerating, de-weeding etc. It proves to be a very cost-effective option in the long term.
Synthetic Lawns
While many people are interested in the idea of getting artificial turf installed in the outdoor areas of their property, they wonder whether it will have the kind of feel that natural grass has. Modern technology has made it possible to manufacture synthetic grass that looks very much like the real thing.
Not only does it look amazingly fresh and green but is also fade-resistant and easy to maintain. It can last for many years without any trouble, which means that it also provides you good value for money. We provide high-quality synthetic lawn installation in San Diego, CA, services, and use the best quality products in our work.
Artificial Putting Greens
If you like to play golf, but find that it is very difficult to find time in your busy schedule to play the sport, you should consider getting a putting green installed on your property. One made of real grass can be very difficult to maintain and can develop bald or brown patches over time. One of the best ways to avoid these problems is to opt for anartificialputting greens in San Diego, CA.
We provide high quality artificial grass for putting green installations and handle this job very efficiently and professionally. Not only will we prepare the sub-base perfectly, but will also make sure that the geo-textile base layer is installed well before trimming and placing the artificial grass in the outdoor spaces.
For any more information, call San Diego Landscape Solutions Inc. at this number- 619-734-7364. You can also send us your project details via the free estimate form on our site or use this contact us form to send us your queries. We will revert within the shortest possible time.
We Provide Services to the Following Cities and Towns in CA: