Low Voltage Lighting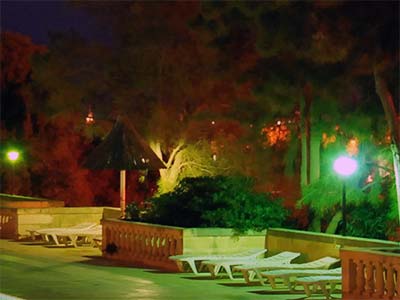 The outdoor spaces on your property lend freshness and life to your property and you want to ensure that these areas are seen and usable even after dark. This is why you get exterior lighting installed. However, most property owner's worry about the cost factor as these installations can be energy-guzzlers and can be a major burden on your power expenditure. However there is a solution to this problem.

We at San Diego Landscape Solutions Inc. provide excellent Low Voltage Lighting solutions for commercial and residential landscapes across National City, La Mesa, Bonita, Imperial Beach and Coronado. We also have a number of customers in and around San Diego, Lemon Grove, La Presa, Tijuana as well as Spring Valley. We know what it takes to provide our clients with solutions that will work perfectly for them.

When you come to us with your landscape lighting requirement, be it a new installation or an upgrade job, we first come and survey all the areas that have to be lighted. We understand what kind of lighting effect you want on your property and the effect you want to create. In most instances we recommend the use of LED bulbs for all outdoor lighting installations. These are 80% more energy-efficient than standard installations and significantly reduce your energy bills.


Low Voltage Lights – The Benefits
In addition to LED bulbs, we also offer other energy-efficient lighting solutions. Here is some more information that will help you understand what these installations are and how you benefit by opting for them:


Typically, low voltage lights operate on 12/24V. In comparison, a line-voltage system functions on 120/277 volts. While many people do have low voltage fixtures in the indoors spaces of their homes, it's possible to use features like suspended cable lighting, pendant lights and recessed lighting in certain outdoor spaces too.
We have to install transformers for these low voltage lighting connections and they ensure that the right amount of current reaches the fixtures. At times, the transformers might be part of the low voltage lights fixture itself. If this is not present in the original fitting, we will add an external one.
Adding dimmers to these helps enhance the low voltage factor, no matter what type of transformer is being used.
We also ensure that thicker wires are used to connect the transformers and that all the wiring is tight and secure.
Low Voltage Lighting – The Benefits
As mentioned earlier, these systems are energy-efficient and they throw the same amount of light even though they use only 20 percent of the energy.
Since less energy is consumed, it means you also save on energy bills.
The light that LED bulbs throw is very cool and the minimal heat distribution is also very low. This makes it perfect for areas that have a lot of plants, like in landscaping projects.
On an average, LED bulbs have a lifespan of around 15 years, which also makes them very low maintenance and high value.

For any more information, call San Diego Landscape Solutions Inc. at this number: 619-734-7364. You can also send us your project details via the free estimate form on our site or use this contact us form to send us your queries. We will revert within the shortest possible time.

We Provide Services to the Following Cities and Towns in CA: