Spring Valley, CA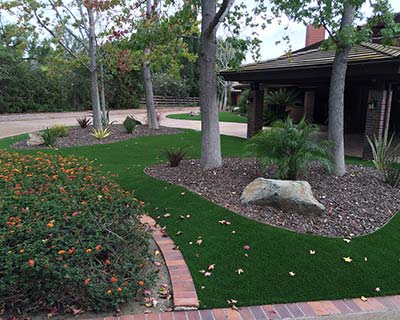 The creation of beautiful landscapes involves a significant amount of planning, choice of the right materials, and design concepts as well as perfect installation. The only way that you can get a well-balanced, aesthetically appealing, resilient as well as durable landscape is to make sure that all of the features and installations in the outdoor areas are planned to perfection.
Since many different aspects need to be kept in view while planning a landscape, it is a good idea to hire the services of a well-established and reputable company like us at San Diego Landscape Solutions Inc. We are a full-service landscape contractor in Spring Valley, CA that provides start to end training and installation solutions. The different types of landscaping services that we offer include:
Landscaping
As mentioned, we handle every aspect of a landscaping job right from conceptualization, planning,and design to the actual installation. Our team of landscape designers in Spring Valley, CA is here to work closely with you to determine what your requirements are. Based on the discussions they have with you, they will provide designs, plans, and layouts that will be functional, appealing, and a value-add to your property.
They will also make sure that all of the softscaping and hardscaping features are designed to create the perfect balance in the outdoor areas of your home. The use of high quality materials and workmanship go a long way in ensuring that these spaces are exactly as you envisioned them to be.
Landscape Lighting
No landscape design is complete without the inclusion of the right kind of exterior lighting fixtures and installations. When we are designing your landscape, care will be taken to ensure that the lighting aspect is incorporated into the plans. While recommending different outdoor lighting fixtures for your landscape in Spring Valley, CA, we will keep the different features and installations in view.
We recommend the use of energy-efficient, outdoor LED lighting elements and can install paver lights, lamp posts, wall lights, boundary lights, patio, and deck lights as well as underwater lights for water features and swimming pools.
Irrigation/Sprinklers
Regardless of the size of your landscape, when you have plants, trees, and lawns, it is necessary to get the right types of irrigation systems installed. The best way to make sure that your landscape features get watered at the schedule is to install automatic sprinkler systems in Spring Valley, CA. We use high quality irrigation in our work, which goes a long way in ensuring that your landscape gets the right amount of water at the right times. Since theer are many different products on the market, we take the time to understand what your requirements and budget are and will recommend solutions that are in line with these.
For any more information, call San Diego Landscape Solutions Inc. at this number- 619-734-7364. You can also send us your project details via the free estimate form on our site or use this contact us form to send us your queries. We will revert within the shortest possible time.
We Provide Services to the Following Cities and Towns in CA: